LET'S GET READY FOR YOUR BOAT PARTY!
Let's get ready for this amazing boat party coming up?
Here you will find directions and Dos and don'ts that will help you be ready and on time for your boat party.
What's included
Captain + mate (person to help / serve)
Lily pad (water mats) and noodles
Bathroom
Sound System (Bluetooth stereo)
Large coolers
Ice
Not included
Food and drinks are NOT included
(You are welcome to bring your own. Ask your host if you need to bring additional food and drinks)
Paper towels, cups, plates and utensils
What you'll be doing
Step aboard and meet your captain. Get comfortable and enjoy the ride. Just as you expect from the name, this Private Party Boat will take you on a seriously fun journey around Miami and then to an island stop for a swim through Boats & Yachts. Your tour doesn't have to be limited to an Island, you can cruise up and down Miami River too. This is a huge party time and a really exciting change from land-based bars. You can dance and jump on the water to cool down. It really is sure to be a day to remember.
Finding your boat
Please plan to arrive at the boat dock on-time (20 minutes before departure) rain or shine. Miami's weather is always changing. It is not unusual for rain to be appear on the other side of the street. And these showers typically last 15 minutes.
Bayside Marketplace and Marina
Address: 401 Biscayne Blvd, Miami, FL 33132
YOUR BOAT: SUNRISE LADY
Meet your captain and boat by the area highlighted with the RED ARROW. The Beach Lady boats will be docked near pier 5 (inside of the marina). If being dropped off please ask the driver to drop off at the front of Bayside Marketplace near Bubba Gump Restaurant. See the directions for the location below: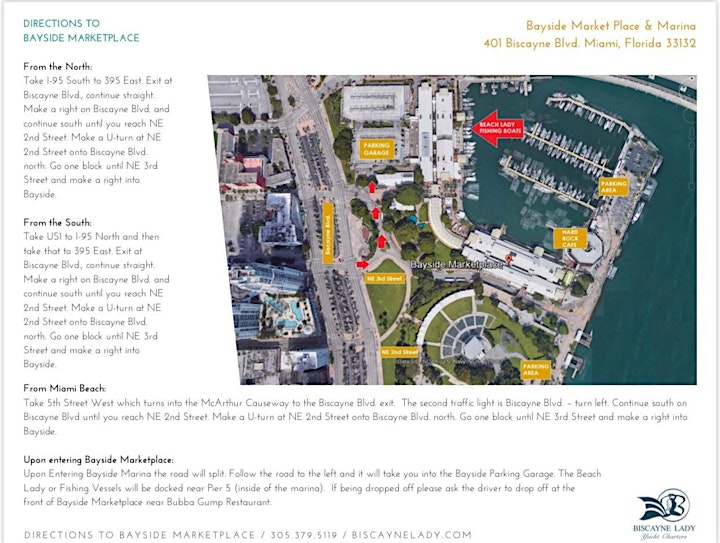 Thank you for joining us and enjoy your trip!!
We hope you love your experience and come back!!
So we would like to give $100 discount on your next party.
Valid for inquiries done before August 31st, 2021.
PARTY BOAT CHARTER
Website: www.partyboatcharter.com
contact@partyboatcharter.com
Phone: (786) 262-9381